In Memorium of the 103 Warehams who gave their lives during World War l (59), World War ll (40), Boer War (1), Crimean War – Charge of the Light Brigade (1) – Malayan Emergency (1) – Unclear but in service (1)
Please note the Hyperlinks provided below (will open in a new window) will take the visitor to:
1. the Commonwealth War Graves Commission (CWGC) web site
2. the FindaGrave Memorial web site
(with the exceptions of the Boer War link – which is the roll-of-honour web site and the Bomber Command Website)
These links are only a signpost to the CWGC and FindaGrave websites and are not intended to replace their webpages or information. Please visit the links and help keep our heroes memories alive.
All photos have been taken by us apart from those accredited to which we thank them and which will be replaced by our own photos where and when possible. So far we have found 28 photos out of the 103.
Can you help? We are searching for photographs of the soldiers listed on this page and are trying to trace any currently living family relatives. If you are or know of a relative, please would you contact us, we would love to talk with you.
I (Chris Wareham) am related to 6 of these heroes and am working on links to the others)
Thank you.
Wareham, Albert 6789 KIA 28th January 1916 9th Queens Royal Lancers Buried (Photo accredited CWGC)
FindaGrave Memorial ID 56590272
(My Family Relation H:3217 Db1026)

———————————————————————————————————————————-
Wareham, Albert 10958 KIA 3rd December 1917 Wiltshire Regiment Buried
FindaGrave Memorial ID 12535240
(Cousin to Elliott Frederick Wareham No.27 and Jack Ringe Wareham No. 51)
(Db1024)
———————————————————————————————————————————-
Wareham, Albert R/110831 KIA 30th July 1942 Royal Canadian Air Force Buried (Photo accredited to Albert's Family)
FindaGrave Memorial ID 125099000
(Cousin to Albert Edward Wareham No.2 and John Townley Wareham No. 59 both on 'Warehams who served Page')
(Db1016)
———————————————————————————————————————————-
Wareham, Albert Edward 204118 KIA 1st November 1914 Royal Navy Leading Seaman MISSING Remembered
FindaGrave Memorial ID 56709024
(My Family Relation H:3264 Db1023)
———————————————————————————————————————————-
Wareham, Albert Michael 2622118 KIA 25th September 1944 Grenadier Guards Buried (Photo accredited to unknown)
FindaGrave Memorial ID 18429914
(Db1020)
———————————————————————————————————————————-
Wareham, Alfred Joseph 9971 KIA 26th September 1916 Dorsetshire Regiment MISSING Remembered
FindaGrave Memorial ID 12375142
(This is my distant relation and i am working on the relationships and explanation – Also is 1st Cousin to Reginald Charles Wareham 17618 and 3rd Cousin 2nd Removed to George William Henry Wareham L/14294 and Sidney Charles Wareham 230234 shown below)
(Db1032)
———————————————————————————————————————————-
Wareham, Alfred George 1445 KIA 7th July 1916 Royal Fusiliers MISSING Remembered
FindaGrave Memorial ID 12375140
(Db1029)
———————————————————————————————————————————-
 Wareham, Alice Killed Hastings 11th March 1943 Hastings County Borough, Hastings, Sussex Civillian (Unknown if Buried or Cremated or Missing)
FindaGrave Memorial ID 58181670
(Db1035)
———————————————————————————————————————————-
Wareham, Arthur 25646 KIA 3rd May 1917 Leicestershire Regiment MISSING Remembered (Brother to Harry Wareham 3/12045 shown below)
FindaGrave Memorial ID 124958345
(Db1041)
———————————————————————————————————————————-
Wareham, Arthur Lamont Hastie LT/X18289A KIA 13th June 1944 Royal Naval Reserve Patrol Service Leading Seaman MISSING Remembered (Photo accredited to unknown)
FindaGrave Memorial ID 13830759
(Db1037)
———————————————————————————————————————————-
Wareham, Bernard William 1164194 KIA Shot down by a night-fighter and crashed at Mairembourg, Belgium 13th October 1941 Royal Air Force Volunteer Reserve Buried
FindaGrave Memorial ID 15114731
(Db1044)
———————————————————————————————————————————-
Wareham, Bert 552785 KIA 14th April 1917 London Regiment Queens Westminster Rifles MISSING Remembered
FindaGrave Memorial ID 124958351
(Db1076)

———————————————————————————————————————————-
Wareham, Bertram Edmund 1703303 KIA 22nd May 1944 Royal Air Force Volunteer Reserve MISSING Lost without trace Remembered
FindaGrave Memorial ID 15265677
(Db1084)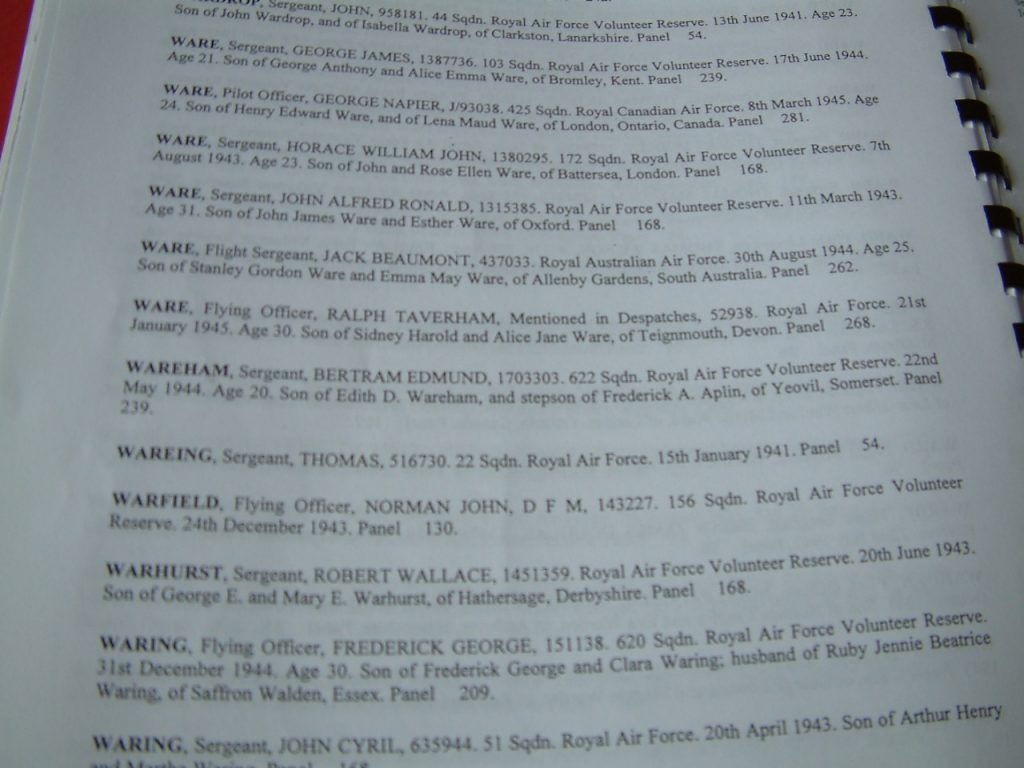 ———————————————————————————————————————————-
Wareham, Charles 17531 KIA 19th November 1915 Hampshire Regiment Buried Azmak Cemetery, Suvla, Turkey (Grave photo requested)
FindaGrave Memorial ID 56396081
(Db1102)
———————————————————————————————————————————-
Wareham, Charles 8458 KIA 1st July 1916 1st Battalion, Dorsetshire Regiment Buried (My fifth cousin 3rd removed)
FindaGrave Memorial ID 56413112
(Db1118)
———————————————————————————————————————————-
Wareham, Charles 38299 KIA 30th August 1917 Royal Horse Artillery Buried
FindaGrave Memorial ID 17667007
(Db1115)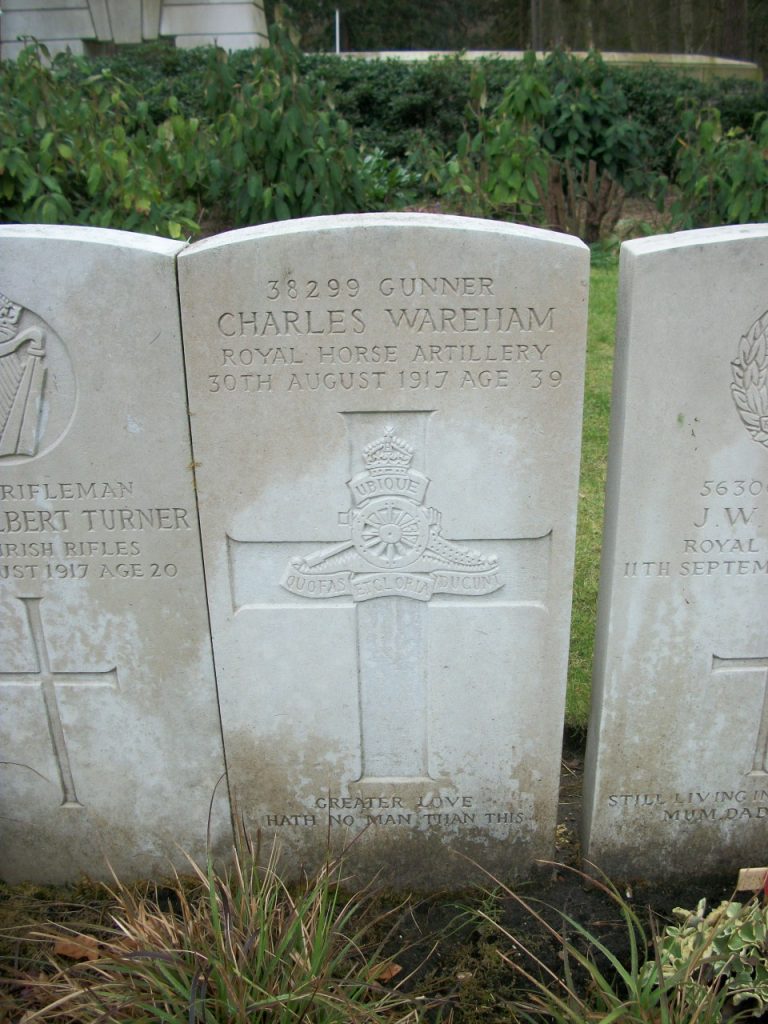 ———————————————————————————————————————————-
Wareham, Charles Henry 4536 KIA 2nd March 1916 East Surrey Regiment Buried
FindaGrave Memorial ID 13807748
(Db1098)
———————————————————————————————————————————-
Wareham, Claude Augustus 26839 KIA 3rd April 1918 Dorsetshire Regiment Buried
FindaGrave Memorial ID 216124659
(Db1092)
———————————————————————————————————————————-
Wareham, Clement Patrick Stephen Serjeant 20211 KIA 30th September 1940 New Zealand Artillery, Buried (Photo accreditation to darealiolo)
FindaGrave Memorial ID 133762854
(Db1047)
———————————————————————————————————————————-
Dennis J Wareham Private 22188382 KIA 25th May 1950 Devonshire Regiment, Buried Kuala Lumpur, Malaysia
FindaGrave Memorial ID 199241760
(Unable to locate a CWGC record) (Photo credit to Tim Hopkins)
(Db19662)
Wareham, Donald 1607715 KIA 7th October 1945 Royal Air Force Volunteer Reserve Buried
FindaGrave Memorial ID 68008804
(Db1125)
———————————————————————————————————————————-
Wareham, Douglas LT/X195264 KIA 30th September 1941 Royal Naval Patrol Service Buried (Photo courtesy of Hedley Wareham of Deer Lake NF, Wayne Wareham of Gander NF)
FindaGrave Memorial ID 59985093
(Db1127)
———————————————————————————————————————————-
Wareham, Edgar 300699 KIA 30th August 1918 Manchester Regiment MISSING Remembered (Photo accredited to: Simon Tiron)
FindaGrave Memorial ID 56673030
(Db1137)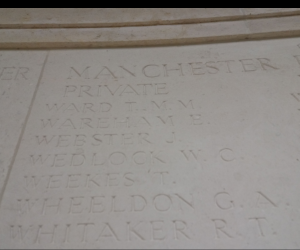 ———————————————————————————————————————————-
Wareham, Edward Graham (Officer) KIA 10th May 1915 Australia Infantry A.I.F. MISSING Remembered (Photo accredited Imperial War Museum London)
FindaGrave Memorial ID 56803135
(Db1050)
———————————————————————————————————————————-
Wareham, Edward James J94474 Died of Pneumonia 28th February 1919 Buried
FindaGrave Memorial ID 59987422
(Db12345)

———————————————————————————————————————————-
Wareham, Elias 88943 KIA 3rd May 1918 The Kings Liverpool Regiment MISSING Remembered
FindaGrave Memorial ID 15762310
(Db1145)
———————————————————————————————————————————-
Wareham, Elliott Frederick S/2578 KIA 30th October 1915 Rifle Brigade Buried (Photo accredited to Nancy Wright)
FindaGrave Memorial ID 56071352
(Cousin to Albert Wareham No. 2 and Jack Ringe Wareham No. 51)
(Db1148)

———————————————————————————————————————————-
Wareham, Ernest 51913 KIA 29th December 1918 Royal Field Artillery Buried
FindaGrave Memorial ID 15123463
(Db1136)
———————————————————————————————————————————-
Wareham, Ernest KIA 26th February 1943 Home Guard Buried (Photo accredited to DeeBee)
FindaGrave Memorial ID 54106632
(Db1160)
———————————————————————————————————————————-
Wareham, Ernest George T2/017620 KIA 26th July 1915 Army Service Corps Buried Lancashire Landing Cemetery, Turkey (Photo requested) (Brother to Henry James Wareham shown below)
FindaGrave Memorial ID 56512530
(Db1132)
———————————————————————————————————————————-
Wareham, Ernest James 5504001 KIA 9th April 1943 Hampshire Regiment Buried
FindaGrave Memorial ID 55908437
(Db1156)
———————————————————————————————————————————-
Wareham, Frank 25314 KIA 4th September 1918 Hampshire Regiment Buried (Photo accreditation to: jj83)
FindaGrave Memorial ID 56566371
(Db1176)

———————————————————————————————————————————-
Wareham, Frank Edward 134370 KIA 5th July 1944 Shot down by night-fighter flown by Unteroffizier Günther S. Schlomberg Royal Air Force Volunteer Reserve Buried (My Second Cousin first removed)
FindaGrave Memorial ID 25026488
(Db1172)
———————————————————————————————————————————-
Wareham, Frederick S/17599 KIA 25th September 1918 Rifle Brigade Buried Plovdiv Central Cemetery Bulgaria (Photo requested)
FindaGrave Memorial ID 20952103
(Db1164)
———————————————————————————————————————————-
Wareham, Frederick William (Officer) KIA 1st July 1916 Royal Warwickshire Regiment MISSING Remembered (Photo accreditation Nancy Wright)
FindaGrave Memorial ID 12375141
(Db1179)
———————————————————————————————————————————-
Wareham, George Albert 1332649 KIA 3rd September 1943 Royal Air Force Volunteer Reserve Buried
(Photo accredited to Geoffrey Gillon)
FindaGrave Memorial ID 85681516
(Db1191)
———————————————————————————————————————————-
Wareham, George Frederick 15594 KIA 15th July 1917 Dorsetshire Regiment Buried Baghdad North Gate War Cemetery, Iraq (Photo requested however, highly unlikely due to where it is although reports suggest the cemetery is in surprisingly good condition)
FindaGrave Memorial ID 12968323
(Db1188)
———————————————————————————————————————————-
Wareham George H First Lieutenant KIA 20th June 1944 407 Bomb Squadron 92nd Bomb Group GP(H) Somewhere over the North Sea MISSING Remembered Cambridge Memorial Wall of the Missing, England
(Db19717)
———————————————————————————————————————————-
Wareham, George Sidney 43925 KIA 1st November 1914 Royal Horse Artillery Buried (George is my 8th Cousin 4th removed; My 10th Great Grandfather is George's 7th Great Grandfather)
FindaGrave Memorial ID 12737121
(Db1202)
———————————————————————————————————————————-
Wareham, George William Henry L/14294 KIA 17th March 1917 Royal Field Artillery Buried
FindaGrave Memorial ID 56555155
(Db1189)
———————————————————————————————————————————-
Wareham, Gilbert SE/23123 KIA 9th November 1918 Army Veterinary Corps Buried
FindaGrave Memorial ID 56266603
(Db1205)
———————————————————————————————————————————-
Wareham, Lewis Harold F/2117 KIA 1st October 1915 Royal Naval Air Service Buried (Brother to Stanley Belben Wareham below)
FindaGrave Memorial ID 15270187
(Db1207)

———————————————————————————————————————————-
Wareham, Harold Baxter J/19309 KIA 16th December 1943 Royal Canadian Air Force Buried
FindaGrave Memorial ID 32379480
(Db1053)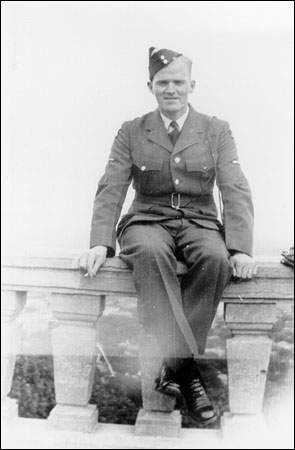 ———————————————————————————————————————————-
Wareham, Harold Frank 1333950 Died 1st August 1950 Royal Air Force Buried St Augustine Churchyard Heanton Punchardon, North Devon District, Devon
FindaGrave Memorial ID
(Db7871)
———————————————————————————————————————————-
Wareham, Harry H. 3/12045 KIA 13th March 1915 Leicestershire Regiment MISSING Remembered (Brother to Arthur Wareham 25646 shown above) (Better Photo requested)
FindaGrave Memorial ID 15286203
(Db1213)
———————————————————————————————————————————-
Wareham, Henry James 30132 KIA 9th August 1916 Somerset Light Infantry Buried (Brother to Ernest George Wareham sbown above)
FindaGrave Memorial ID 11100101
(Db1220)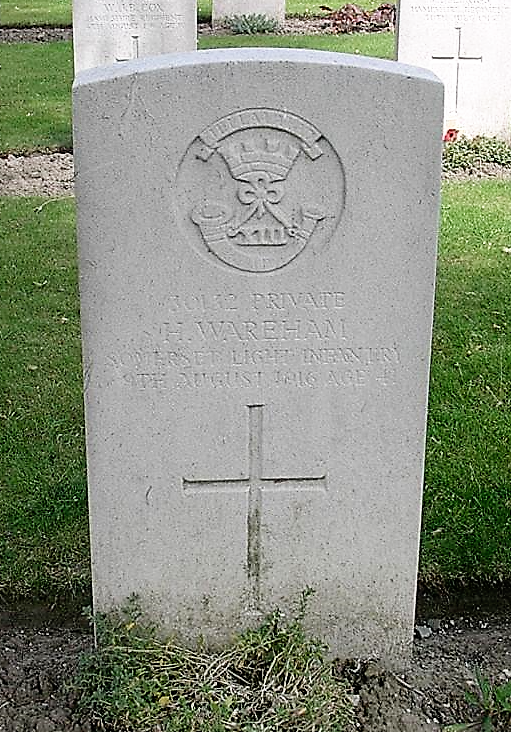 ———————————————————————————————————————————-
Wareham, Henry James 206552 KIA 28th October 1918 Rifle Brigade MISSING – Remembered Kirkee, India 1914-1918 Memorial (Photo requested)
FindaGrave Memorial ID 18862697
(Db1216)

———————————————————————————————————————————-
Wareham, Herbert 14278691 KIA 7th November 1945 Royal Artillery Buried (Photo accredited to and76)
FindaGrave Memorial ID 21543956
(Db1253)
———————————————————————————————————————————-
Wareham, Herbert Sydney 3593 KIA 4th July 1916 London Regiment Buried
FindaGrave Memorial ID 56571556
(Db1254)
———————————————————————————————————————————-
Wareham, Hubert Holroyd Charles 18837 KIA 31st July 1917 2nd Battalion Coldstream Guards Buried
(Proud to say my Grand Uncle)
FindaGrave Memorial ID56465303
(Db1250)
Hubert in DeepNostalgia with thanks to MyHeritage's amazing software
———————————————————————————————————————————-
Wareham, Jack J 946672 KIA 18th February 1945 Royal Artillery MISSING Remembered
FindaGrave Memorial ID 17783909
(Db1238)
———————————————————————————————————————————-
Wareham, Jack Ringe 76694 KIA 7th November 1942 East Surrey Regiment Buried
FindaGrave Memorial ID 55889988
(Cousin to Albert Wareham No.2 and Elliott Wareham No.27)
(Db1241)

———————————————————————————————————————————-
Wareham, James 8753 KIA 11th December 1899 Coldstream Guards MISSING Suggested Buried. The family name on the memorial shown is missing the 'E'. (Photo of the grave requested)
(Proud to say this was my Great Grand Uncle and Uncle to Hubert Holroyd Charles Wareham 18837 mentioned above)
FindaGrave Memorial ID 217551967
(Db11471)
———————————————————————————————————————————-
Wareham, James 14068976 Died 18th August 1946 Royal Electrical and Mechanical Engineers Buried Moston St Joseph's Roman Catholic Cemetery, Manchester (Photo requested)
FindaGrave Memorial ID 217551484
(Db27250)
———————————————————————————————————————————-
Wareham, James J 1527441 KIA 10th June 1942 Royal Artillery Buried Ranchi War Cemetery, India (Photo requested. Will replace the borrow photo as soon as possible) FindaGrave Memorial ID 21621270
(Db1231)

———————————————————————————————————————————-
Wareham, James Serjeant 3530630 KIA 28th July 1944 Manchester Regiment Buried
FindaGrave Memorial ID 56384078
(Db1234)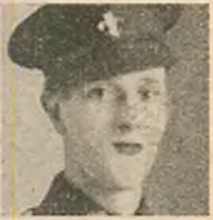 ———————————————————————————————————————————-
Wareham, James Albert (Serjeant) 5/37A KIA 20th May 1918 Buried
FindaGrave Memorial ID 56397223
(Db1057)
———————————————————————————————————————————-
Wareham, James Stephen 8499 KIA 26th October 1914 10th Prince of Wale's Own Royal Hussars MISSING Remembered
FindaGrave Memorial ID 12034683
(Db1237)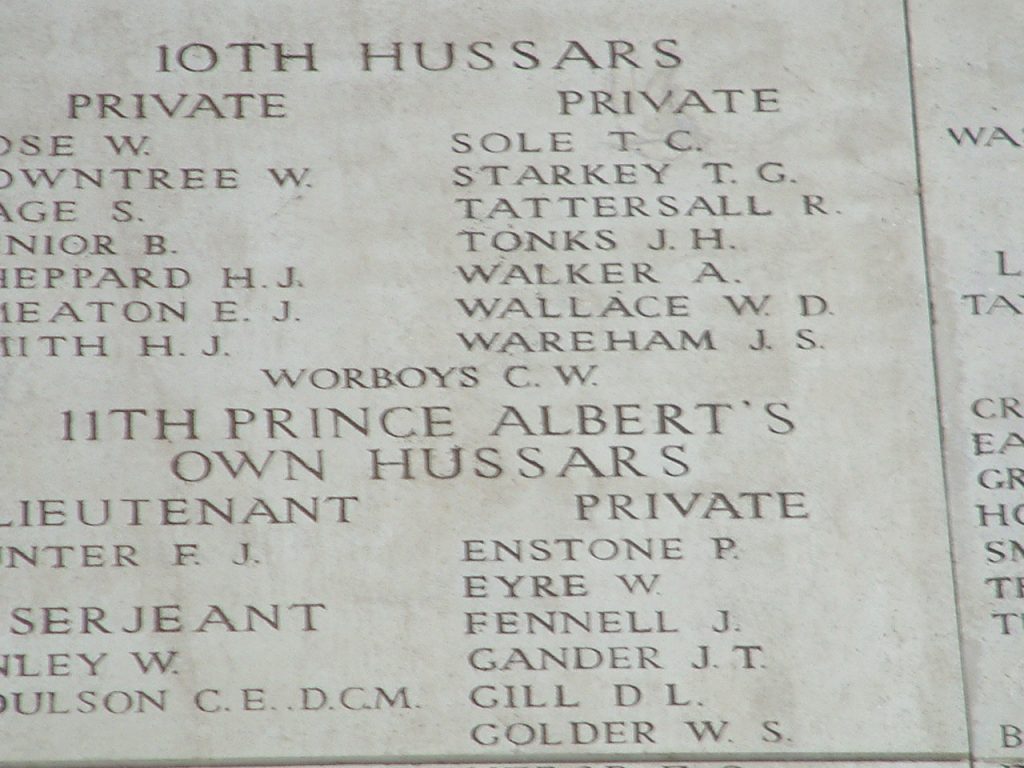 ———————————————————————————————————————————-
Wareham, Jesse Edwin George 3/8059 KIA 1st July 1916 Dorsetshire Regiment MISSING Remembered
FindaGrave Memorial ID 12375143
(Db1230)

———————————————————————————————————————————-
Warham John 16931 KIA 9th April 1916 Mesopotamia Wounded and Missing Remembered on Basra memorial; burial unknown (John's family name recorded as Warham; his 3rd Great Grandfather Thomas was recorded as Wareham. This often happens for various reasons but is evidenced)
FindaGrave Memorial ID 13011577
(Db50326)

———————————————————————————————————————————-
Wareham, John 43291 KIA 17th February 1917 Northamptonshire Regiment MISSING Remembered (Uncle to Thomas George Wareham 5952724 below) (Photo accredited to angsav68 )
FindaGrave Memorial ID 12375137
(Db1223)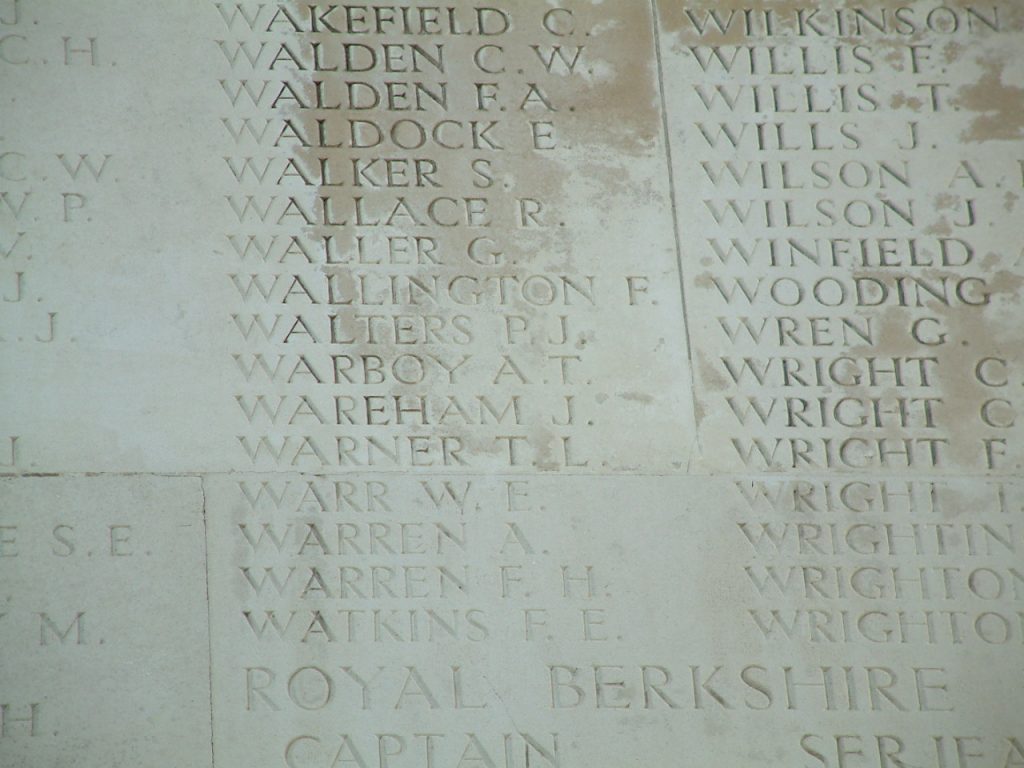 ———————————————————————————————————————————-
Wareham, John 602705 KIA 24th February 1917 Canadian Infantry Buried
FindaGrave Memorial ID 56178304
(Db1060)

———————————————————————————————————————————-
Wareham, John Arthur 33408 KIA 27th May 1918 Royal Berkshire Regiment MISSING Remembered
FindaGrave Memorial ID 56067853
(Db1229)
———————————————————————————————————————————-
Wareham, John Charles G/44708 KIA 17th Sept 1918 Middlesex Regiment Buried
(Uncle to Sydney Charles Wareham shown below)
FindaGrave Memorial ID 217567642 
(Db1248)

———————————————————————————————————————————-
Wareham, John Harold Cortis S/2145 KIA 9th May 1915 Royal Sussex Regiment MISSING Remembered
FindaGrave Memorial ID 15286204
(Db1226)
———————————————————————————————————————————-
Wareham, John William 777702 KIA 25th April 1942 Royal Air Force Volunteer Reserve MISSING Remembered
FindaGrave Memorial ID 14708842
(Db1061)
———————————————————————————————————————————-
Wareham, Kathleen Polly Killed in Bombing of Plymouth 29th April 1941 MISSING Remembered Civilian
(Confirmation required that Kathleen is named on the memorial. It is believed Kathleen was killed alongside her sister and her two nieces and all possibly buried in a mass grave)
FindaGrave Memorial ID 56517000
(Db1064)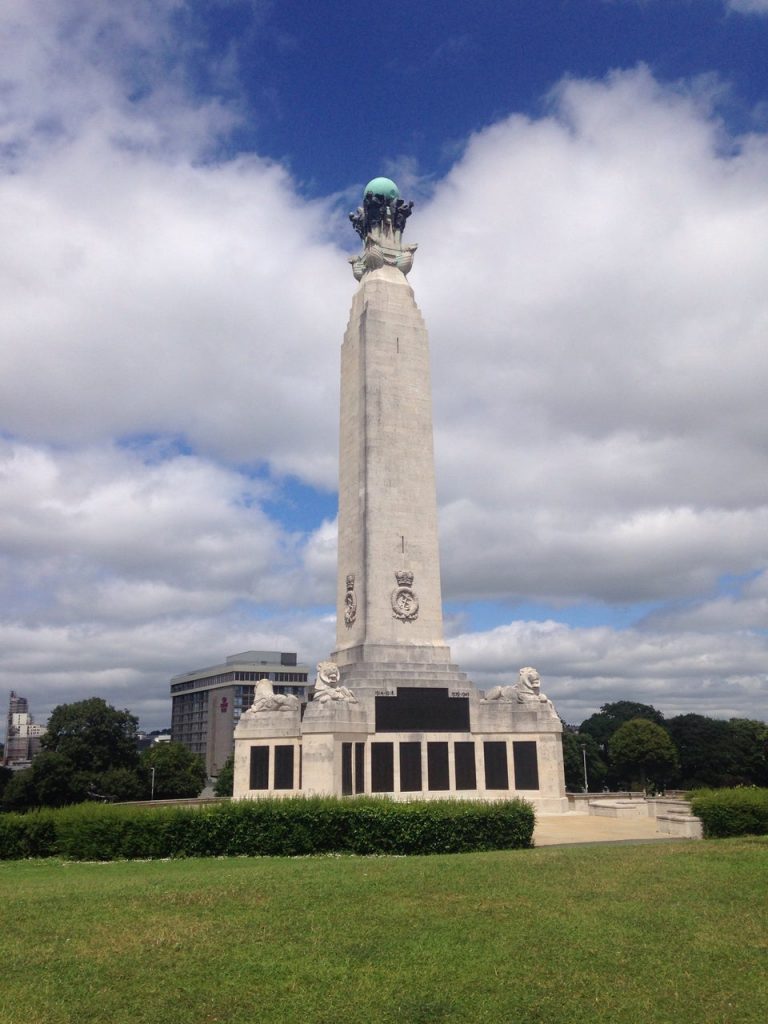 ———————————————————————————————————————————-
Wareham, Lawrence John (Officer) KIA 21st July 1916 Worcestershire Regiment MISSING Remembered
FindaGrave Memorial ID 12375138
(Db23367)
———————————————————————————————————————————-
Wareham, Leslie George 421 KIA 28th June 1915 Machine Gun Corps Buried
FindaGrave Memorial ID 196587101
(Db1067)
———————————————————————————————————————————-
Wareham, Martin A/20581 KIA 4th June 1916 Canadian Infantry Buried
FindaGrave Memorial ID 12326087
(Db1072)
———————————————————————————————————————————-
Wareham, Norman Edward 7936287 KIA 1st June 1942 Royal Tank Regiment R.A.C. Buried Knightsbridge War Cemetery, Acroma, Libya (Photo requested to replace the borrowed photo)
FindaGrave Memorial ID 56597703
(Db1073)
———————————————————————————————————————————-
Wareham, Orson PFC 37351412 KIA 8 April 1945 Germany or Netherlands Entered service from Colorado Buried
FindaGrave Memorial ID 56304978
(Db3522)
———————————————————————————————————————————-
Wareham, Phillip Winston CQMSgt 3956261 KIA 18th January 1942 Welch Regiment MISSING
FindaGrave Memorial ID 14708843
(Db1077)
———————————————————————————————————————————-
Wareham, Reginald Charles 17618 KIA 25th March 1917 Dorsetshire Regiment MISSING
(Related to Alfred Wareham and Sidney Charles Wareham and also 3rd Cousin to Walter Wareham D/MX63684 shown below and 3rd Cousin 2nd Removed to George William Henry Wareham L/14294 shown above)
FindaGrave Memorial ID 13011573
(Db1081)
———————————————————————————————————————————-
Wareham, Robert Arthur (Officer) KIA 19th August 1941 Merchant Navy MISSING Remembered
FindaGrave Memorial ID 15377302
(Db1086)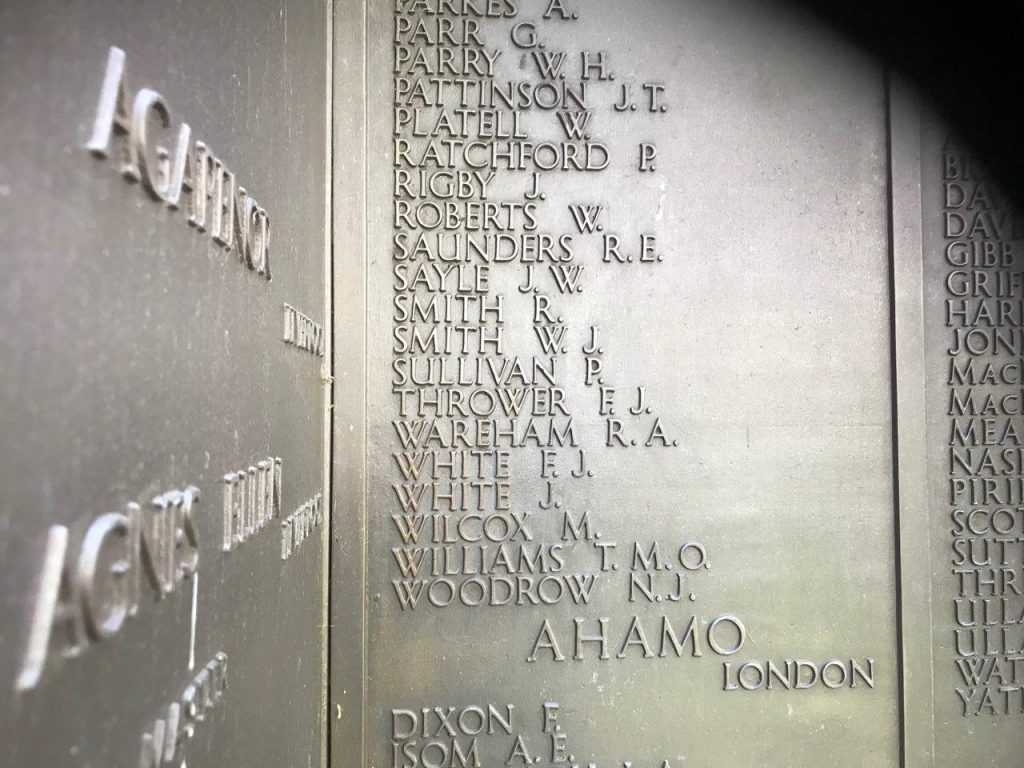 ———————————————————————————————————————————-
Wareham, Robert Edward P/JX677673 KIA 9th March 1945 Royal Navy Ordinary Telegraphist Buried
FindaGrave Memorial ID 59419514
(Db1089)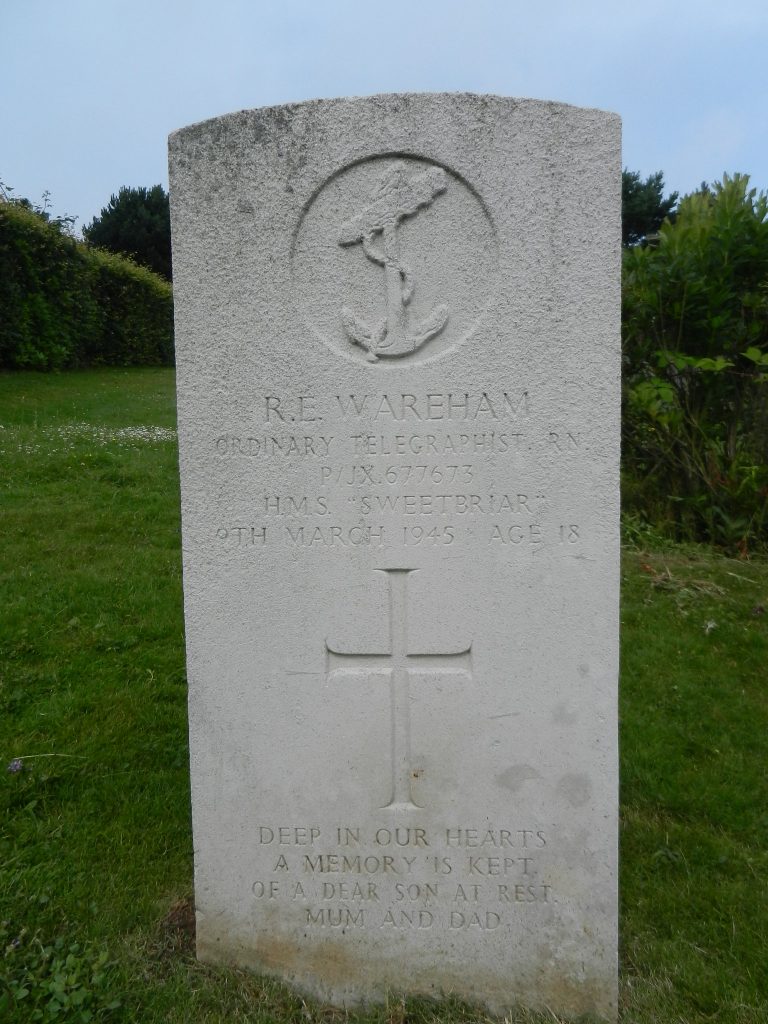 ———————————————————————————————————————————-
Wareham, Robert William KIA 27065 5th July 1916 Durham Light Infantry Buried
FindaGrave Memorial ID 56468543
(Db1093)
———————————————————————————————————————————-
 Wareham, Roy Edmund 7395477 Died between 28th and 30th March 1942 Royal Army Medical Corps MISSING Remembered
FindaGrave Memorial ID 56078134
(Db1095)
———————————————————————————————————————————-
Wareham, Sidney Charles 230234 KIA 9th June 1918 Dorset Yeomanry Queens Own Buried
(Related to Alfred Wareham and Reginald Charles Wareham and 3rd Cousin to Walter Wareham D/MX63684)
FindaGrave Memorial ID 25274417
(Db1107)
———————————————————————————————————————————-
Wareham, Sydney Charles 41559 KIA 12th April 1918 Suffolk Regiment MISSING Remembered
(Brother to George William Henry Wareham L/14294 shown above and nephew to John Charles Wareham G/44708 shown above also 3rd Cousin 2nd Removed to Reginald Charles Wareham 17618 shown below)
FindaGrave Memorial ID 12708293
(Db1121)
———————————————————————————————————————————-
Wareham, Stanley Belben 42763 KIA 11th November 1918 Canadian Field Artillery Buried Archangel Memorial Cemetery, Russia (Photograph requested) (Brother to Lewis Harold Wareham above)
FindaGrave Memorial ID 217574492
(Db1105)
———————————————————————————————————————————-
Wareham, Stanley Cecil 2702A KIA 30th June 1918 Australian Pioneers Buried
FindaGrave Memorial ID 56040491
(Db1112)
———————————————————————————————————————————-
Wareham, Sidney John 1204189 KIA 30th January 1944 Approaching the AP at 19,500 feet, received a direct hit from flak and fell out of control. At 13,000 feet the Lancaster exploded, throwing clear P/O Johnston, who was taken as POW Royal Air Force Volunteer Reserve. Buried
FindaGrave Memorial ID 18405384
(Db1110)
———————————————————————————————————————————-
Wareham, Thomas Albert T/187189 KIA 26th April 1941 Royal Army Service Corps MISSING Remembered
FindaGrave Memorial ID 18975145
(Db1130)
———————————————————————————————————————————-
Wareham, Thomas George 15983 KIA 30th November 1917 Royal Garrison Artillery Buried
FindaGrave Memorial ID 56513628
(Db1124)

———————————————————————————————————————————-
Wareham, Thomas George William 5952724 KIA 22nd June 1944 The Queen's Royal Regiment West Surrey Buried (Nephew to John Wareham 43291 above. Photo accredited to angsav68)
FindaGrave Memorial ID 56278217
(Db1131)
———————————————————————————————————————————-
Wareham, Tom 12896 KIA 14th July 1916 Leicestershire Regiment MISSING Remembered
FindaGrave Memorial ID 12375139
(Db1140)
———————————————————————————————————————————-
Wareham, Walter D/MX63684 KIA 25th November 1941 Royal Navy Photographer MISSING Remembered
(Was photographer on HMS Barham. Was lost whilst flying when HMS Barham exploded and sank (HMS Barham Explodes & Sinks: World War II (1941) | British Pathé – Bing video); also 3rd Cousin to Reginald Charles Wareham 17618 and Sidney Charles Wareham 230234 shown above)
FindaGrave Memorial ID 13748892
(Db1151)
———————————————————————————————————————————-
Wareham, William Private KIA 25 October 1854 The 11th Prince Albert's own Hussars Balaklava Battlefield; The regiment was in the second line of cavalry on the left flank during the Charge of the Light Brigade at the Battle of Balaclava.
Buried Balaklava Battlefield Cemetery, Sevastopol, Ukraine (Photo requested)
FindaGrave Memorial ID 58963256
(Db27339)

89
———————————————————————————————————————————-
Wareham, William 13062 KIA 9th August 1915 Lincolnshire Regiment MISSING Remembered
FindaGrave Memorial ID 56022847
(Db1249)
———————————————————————————————————————————-
Wareham, William 38770 KIA 29th July 1917 Northumberland Fusiliers Buried
FindaGrave Memorial ID 56592320
(Db1150)
———————————————————————————————————————————-
Wareham, William T4/248668 KIA 24th July 1917 Army Service Corps Buried
FindaGrave Memorial ID 11404799
(Db1257)
———————————————————————————————————————————-
Wareham, William Elwyn Ronald 1013281 KIA Shot down by fighters and crashed near the Chocques power station, 22nd September 1942 Royal Air Force Volunteer Reserve Buried
FindaGrave Memorial ID 13946822
(Db1165)
———————————————————————————————————————————-
Wareham, William George 275764 KIA 28th March 1918 Manchester Regiment Buried
FindaGrave Memorial ID 23737044
(Db1182)
———————————————————————————————————————————-
Wareham, William George 1605629 KIA 10th July 1945 Royal Air Force Volunteer Reserve Buried (Photo requested)
FindaGrave Memorial ID 21622714
(Db1169)
———————————————————————————————————————————-
Wareham, William Henry 63797 KIA 29th September 1918 Canterbury Regiment New Zealand Expeditionary Force Buried
FindaGrave Memorial ID 56419925
(Db1185)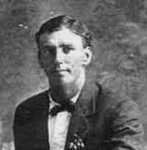 ———————————————————————————————————————————-
Wareham, William Henry 1319125 KIA Engine failure at 20,000 feet over Wales. The aircraft descended into thick cloud and immediately suffered severe icing which caused a wing to fold and come off, crashing into the tail-place causing the Halifax to disintegrate in the air, 23rd January 1944 Royal Air Force Volunteer Reserve Buried
FindaGrave Memorial ID 38235732
(Db1195)
———————————————————————————————————————————-
Wareham, William Jack 1354994 KIA 8th May 1941 Royal Air Force Volunteer Reserve Buried
FindaGrave Memorial ID 64872509
(Db1198)
———————————————————————————————————————————-
Wareham, William James 206737 KIA 5th April 1918 6th Bn. Northamptonshire Regt. MISSING Remembered
(His family name has been scribed and recorded as the Whareham spelling; and this was mis-spelt during the time of his ancestors in Oxford in 1804)
FindaGrave Memorial ID 16075792
(Db50327)
———————————————————————————————————————————-
Wareham, William John Killed Portsmouth 27th April 1941 Remembered Portsmouth County Borough, Hampshire Civillian (Photographs required of William and Madden's Hotel)
FindaGrave Memorial ID 58348395
(Db1208)
———————————————————————————————————————————-
Wareham William Robert SX8658 KIA 18th December 1943 Australian Infantry Buried
FindaGrave Memorial ID 23791447
(Db1210)
———————————————————————————————————————————-
Wareham, William Roy Able Seaman KIA 15th March 1942 Merchant Navy MISSING Remembered
FindaGrave Memorial ID 15377303
(Db1259)
———————————————————————————————————————————-
Wareham, William Samuel 651182 KIA 13th December 1917 London Regiment – First Surrey Rifles Buried (Photo accredited to The London Memorial 1914 – 1918 website)
FindaGrave Memorial ID 10898613
(Db1141)
———————————————————————————————————————————-
Note: a yellow and blue 'Return to top of page' button should be visible in the bottom right corner of your screen